IPTV solutions
IPTV solutions for the set-up of TV, Satellite and Data signal distribution systems through the use of the LAN network. Thanks to the flexibility offered by Ethernet cabling, it is possible to make different types of services converge in a single distribution solution and implement auxiliary services to complete the offer, for example with respect to foreign language channels (free or encrypted) and with an important reduction in costs related to the simplification of the structure.
Intuitive and easy to use, Fracarro IPTV solutions are tailor-made according to the actual needs of the customer, the size of the structure and the programs to be distributed and are articulated according to two main philosophies:
compatibility and integration with the IPTV architectures proposed by the main manufacturers, such as SAMSUNG (LINK REACH 4.0), LG (PRO:CENTRIC), PHILIPS (HFL suite)
customized solution based on a modular platform that mainly considers a server (system intelligence) and Android set-top-boxes (user device); in this way it is possible to use many services directly from the TV in the room, such as the welcome message, local news, room service or the purchase of goods/services directly from the TV in the room.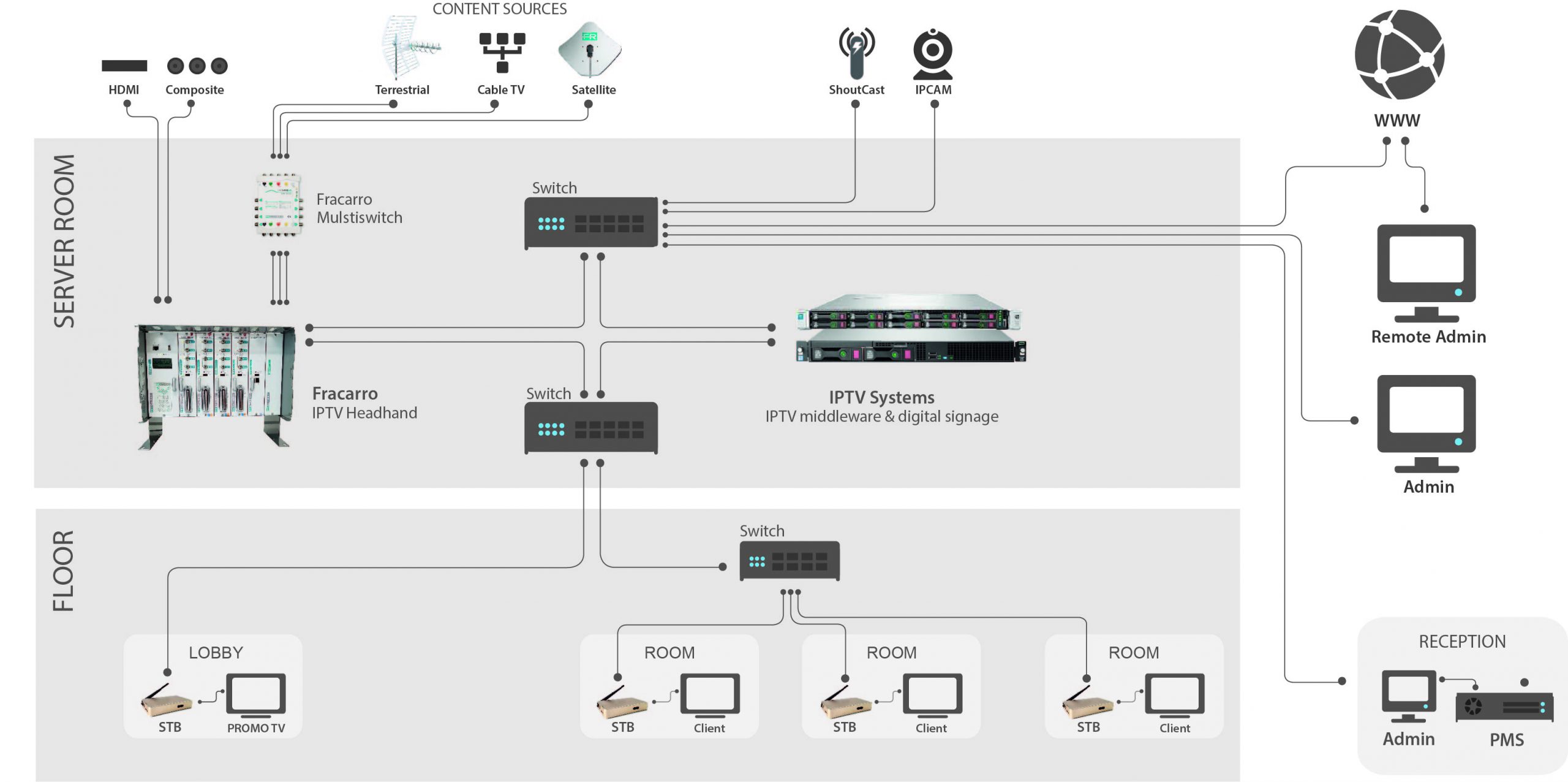 Configuration of the IPTV system
HEAD-END
The 3DGFlex IPTV head-ends by Fracarro are designed to be suitable for the size of the hospitality structure and are configured to distribute the most important programs requested by the customer (Free To Air, Pay-TV, international programs in foreign language and national services, Standard or High definition services).
The head-ends are easily expandable by inserting additional modules and are therefore prepared for future extensions.
The 3DGFlex IPTV control panels are ideal for integrating television content into the data distribution network based on ethernet cable within the hospitality structure. The multicast IPTV programs that are distributed by the FRACARRO head-end are supported by the IPTV middleware of the most famous brands available on the market.
In addition to modules for the management of digital terrestrial or satellite signals and traditional distribution over coaxial cable, the IP streamers for the management of multicast IPTV programs are available within the 3DGFlex family.
IPTV MIDDLEWARE
Fracarro's IPTV middleware solutions have been designed to effectively respond to the major requests from the Hospitality market.
FRACARRO systems are "Plug & Play", are pre-configured in the factory and include:
the physical server appropriately sized to support the total number of clients expected in the system;
the software and the required licenses;
support for system software updates for the first year;/li>
support for first boot and remote system configuration.