SWI504SA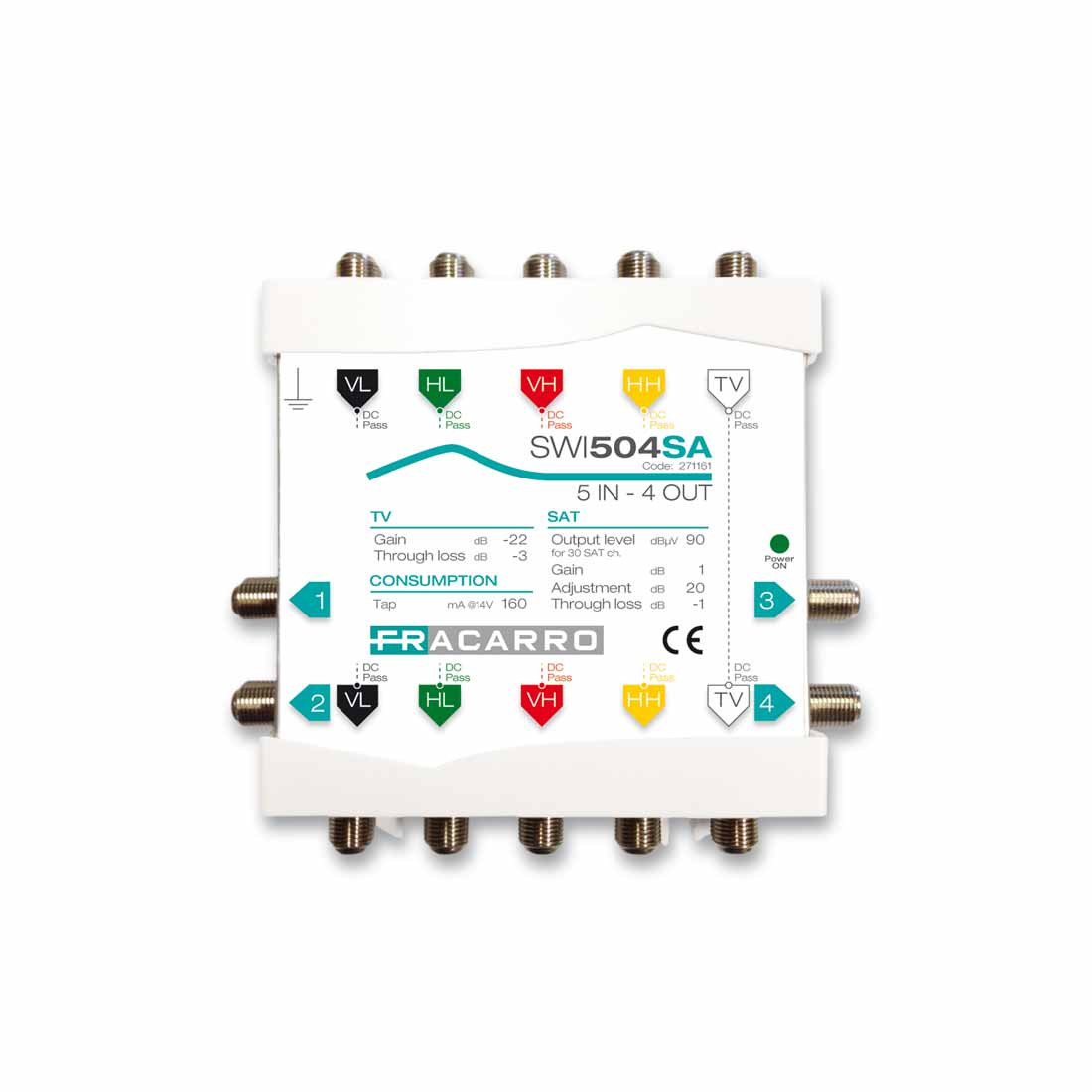 Code 271161
5 Inputs
5-input cascadable multiswitch with 4 output taps; passive TV and adjustable active Satellite gain.
Technical chars
Active satellite (1dB) to maintain the level on the outputs, passive TV to enter with any input level.
Satellite gain adjustment (0-20dB) to equalise signal distribution between floors and facilitate complex distribution network.
Satellite bandwidth up to 2300MHz.
High isolation (> 30dB).
Very low pass loss, allowing signal distribution up to 6 floors without a relay amplifier.
High output level to cover long cable distances(70m with 6.7mm cable).
Return channel included.
The multiswitch is fully powered by the decoder.
Small size due to matrix switching system, with connectors on both sides.
Easy to install thanks to the standard colouring of the inputs.
SWI504SA
Code
271161
Inputs
4 SAT, 1 TV
Outputs
4 SAT, 1 TV
Taps
4
SAT
Bandwidth
MHz
950-2300
Gain
dB
-4/1
Gain adjustment
dB
20
Max Output level
dBµV
102
Insertion loss
dB
-1
TV
TV bandwidth
MHz
88-790
Gain (Passive)
dB
-22
Insertion loss
dB
-3
Consumption
Tap
mA
160
Maximum power supply current SAT
mA
2000
Maximum power supply current TV
mA
1000
Features
Working temperature
°C
From -10 to +55
SAT-SAT Isolation
dB
>30
Dimensions and packaging
Pcs
1
EAN code
8016978097883
Packaging dimensions
mm
214x126x39
Product dimensions
mm
120x120x30
Packaging weight
Kg
0.4