SCD2-5416WTA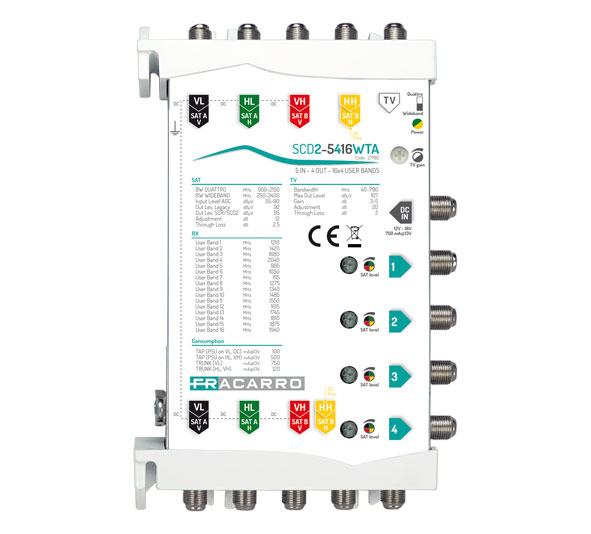 Code 271182
5 Inputs Wideband
Cascaded SCD2 (dCSS) multiswitch, 5 active and adjustable inputs with CAG also compatible with Wideband LNB and 4 derived outputs with 16 frequencies each and autodetection of operating mode, powered entirely by DC-IN connector, VL line or decoder. SKY Italia frequencies.
Technical chars
Series with 4 satellite inputs and 1 TV input, 5 pass-through outputs and 4 or 8 user taps, 4 SCR tuners and 12 SCD2 dCSS tuners simultaneously for each output.
Compatible with both conventional LNB(UX-QT LTE) and Wideband LNB (UX-WB LTE) to distribute the 4 polarities of a satellite with only two cables.
Active and adjustable TV input to mix DTT and Satellite signals in distribution.
Automatic Gain Control (CAG): maintains an adequate output signal (95dBµV) even when input signal strength varies.
High Satellite level and separate adjustment for each output.
Autodetection of the operating mode depending on the STB connected to the port; this allows switching from a Legacy STB to an SCR or SCD2 without any intervention on the system. The multiswitch automatically starts in Legacy mode and switches to SCR or SCD2 mode as soon as it detects a DiSEqC command.
Low handover loss.
DC pass-through on all satellite ports for maximum compatibility with existing installations.
FVM Flexible Voltage Management allows the multiswitch to be powered in different modes without the need for a dip switch.
Compatible with SCR/SCD and SCD2 frequencies used by SKY and Tivùsat in Italy.
Power supply not included PSU3001 with DC insertion on F connector to power the LNB, headend amplifier (if any) and multiswitch when the decoder cannot support the load of the extension.
SCD2-5416WTA
Code
271182
Inputs
4 SAT, 1 TV
Outputs
4 SAT, 1 TV
Taps
4 to serve up to 4 Legacy users, 16 SCR users or 64 SCD2 users (dCSS)
SAT
Bandwidth
MHz
Quattro: 950-2150; Wideband 250-2400
Gain adjustment
dB
12
AGC
dBµV
55-90
Max Output level SAT per transponder
dBµV
Legacy: 92, SCR/SCD2 (dCSS): 95
Insertion loss
dB
-2.5
Return loss
dB
>10
TV
TV bandwidth
MHz
40-790
Gain (Active)
dB
3-5
Gain adjustment
dB
20
Max Output level
dBµV
107
Insertion loss
dB
-2
Taps
SAT bandwidth
MHz
950-2150
TV bandwidth
MHz
40-790
SCR Frequencies
MHz
1210, 1420, 1680, 2040 (meets standard EN50494); 985, 1050, 1115, 1275,1340, 1485, 1550, 1615,1745, 1810, 1875, 1940 (meets standard EN50607)
Consumption
Tap
mA
PSU su DC-IN o VL: 100@13V; PSU su HL o VH: 420@13V
Power supply voltage
V
12-18
Absorption
mA

PSU on DC-IN or VL: 750@13V; PSU on HL or VH: 120@13V; HH pass

Features
Working temperature
°C
From -10 to +55
SAT-SAT Isolation
dB
>25
Dimensions and packaging
Pcs
1
EAN code
8016978103607
Packaging dimensions
mm
210x135x37
Product dimensions
mm
180x109x31
Packaging weight
Kg
0.51