3DG-4S2-BP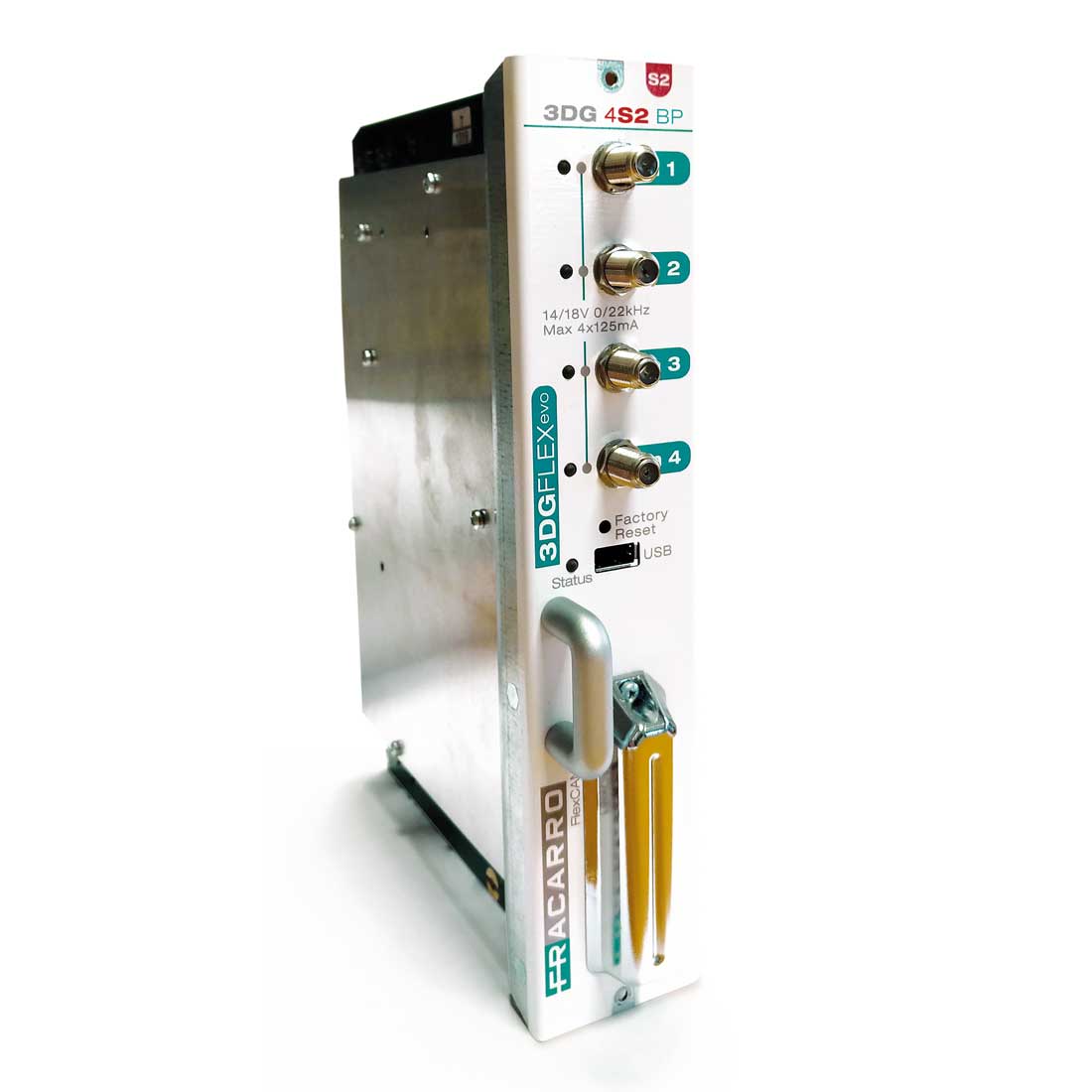 Code 283163
Satellite S2
3DGFLEX series, transmodulation from DVB-S2/T2/C to DVB-T, modular
Technical chars
Multi-Inputs: 4 independent SAT inputs (DVB-S2/S), "USB Input" for external content management and Back-Panel Input/Output.
back Panel output for sharing content received from input tuners.
FlexCAM mode: programs from any SAT input can be forwarded to the same CAM.
"Smart & Pool" functionality for flexible content management: the new generation of 3DG-EVO modules uses high-speed bidirectional Back-Panel.
ARP 2.0 = Automatic Recovery Procedure enables safeguarding higher priority programs and ensuring continuity of service when the input data stream exceeds that allowed by DVB-T or DVB-C standards
"Mux-ad-Hoc": possibility to create your own mux at will by choosing programs from all the new generation modules inserted in the same BOX and to manage all descriptor parameters of individual programs (LCN, SID, PID, Program name...) and MUXes (ONID, TSID, NetID,...).
3DG-4S2-BP
Code
283163
Input
Input no.
4
Input level
dBµV
50-80
Demodulators
DVB-S2 (8-PSK, QPSK), DVB-S (QPSK)
Input band
950-2150
Input AFC
MHz
±5
Symbol rate
Mbps
2-45
FEC
1/2, 2/3, 3/4, 5/6, 7/8, AUTO
Remote feeding
mA
4x125 max (14/18V)
LNB controls
DiSEqC 1.0
Back panel
Output type TS
Serial
TS outputs
48 pins on Back Panel
TS max bitrate
Mbps
1000 bidirectional
IP output
Connectors
4
Features
Connectors
SW update and video playback (type A, FAT32 filesystem, .TS file playback)
Programming mode
Web interface, keyboard and front display
Current consumption
W
7 (senza CAM), 12 (con CAM)
Common interface
2 x PCMCIA (Standard EN50221, TS10169) Flex CAM or Standard Mode
Working temperature
°C
From -10 to 50; from -10 to 45 (with CAM)
Conformity
EN50083-2, EN60065
Dimensions and packaging
Pcs
1
EAN code
8016978099337
Packaging dimensions
mm
305x220x82
Product dimensions
mm
245x208x54
Packaging weight
Kg
1.14