SWA1730TS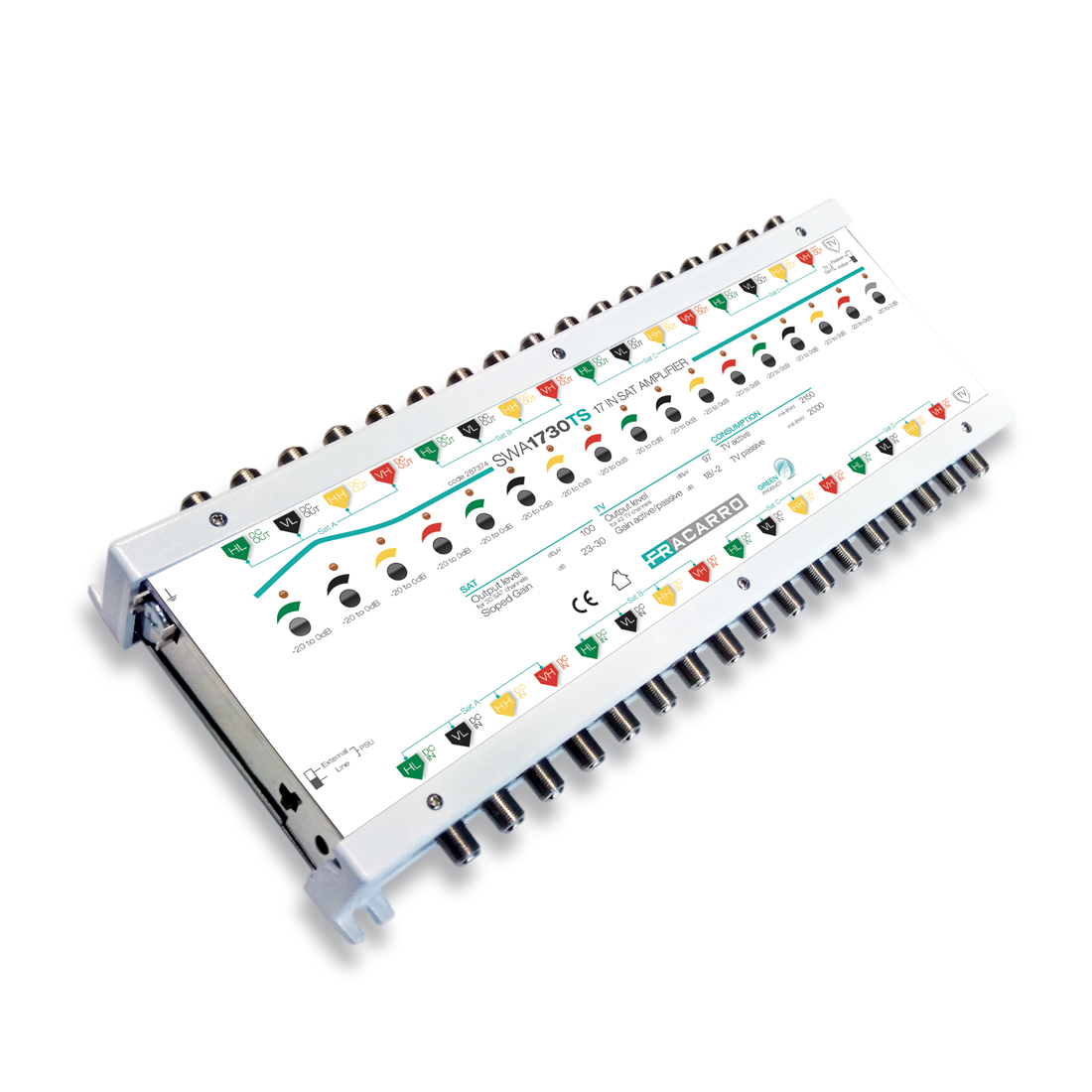 Code 287374
17 Inputs
Head or line amplifier with 17 inputs (16 Satellite and 1 TV) and gain adjustment.
Technical chars
High Satellite amplification.
Gain adjustment for TV input.
Dip switch to select active or passive TV gain.
Gain adjustment for each Satellite input.
Satellite bandwidth up to 2300MHz.
High Satellite output level.
Power supply from feed-through lines (independently on each port) or from side female Jack connector, each port has an LED to show its correct power supply.
Ideal for small and medium sized installations.
Compact size.
Easy to install due to standard input colouring.
SWA1730TS
Code
287374
Inputs
16 SAT, 1 TV
Outputs
16 SAT, 1 TV
SAT
Bandwidth
MHz
950-2300
Gain
dB
30
Gain adjustment
dB
20
Max Output level
dBµV
112
TV
TV bandwidth
MHz

Active TV: 47-862; Passive TV: 5-862

Gain (Active)
dB
18
Gain adjustment
dB
20
Gain (Passive)
dB
-2
Max Output level
dBµV
Active TV: 110
Consumption
Power supply voltage
V
12-14
Absorption
mA
TV passive: 2000, 13
Active TV: 2150, 13
Features
Working temperature
°C
From -10 to +55
Dimensions and packaging
Pcs
1
EAN code
8016978097227
Packaging dimensions
mm
156x260x45
Product dimensions
mm
290x120x40
Packaging weight
Kg
0.6