HMODTV-LT MINI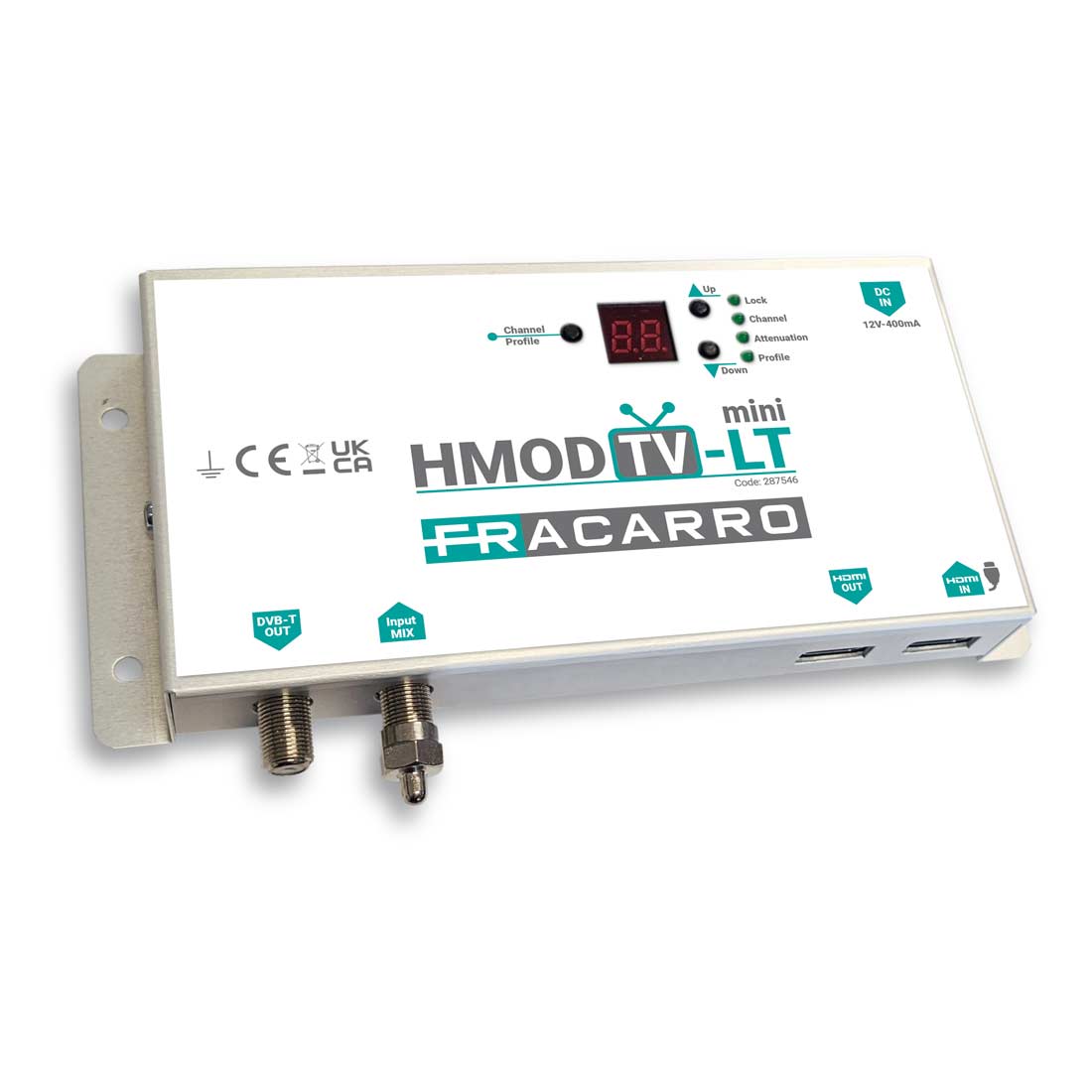 Code 287546
HDMI
High DVB-T "Home" quality indoor digital modulators with loop through on the HDMI output port. Keyboard with display or PC SW for the product setup.
Technical chars
It receives a signal from theHDMI input and converts it to digital terrestrial DVB-T on the output F connector, where the signal from theantenna or another modulator can be mixed.
Ideal solution for distributing SD or HD digital signals received from any device (e.g. DVD player, decoder or camera) in DVB-T technology within an existing coaxial network.
Easy installation with keyboard and display programming or with free SW on PC.
MPEG-4 AVC/H.264 video encoding with Full HD 1920x1080-30p resolution.
VHF and UHF output band with typical MER >35dB on UHF channel.
Miniaturised metal chassis forhigh interferenceshielding and excellent heat dissipation.
HMODTV-LT MINI
Code
287546
Outputs number
2 (RF DVB-T, HDMI LT)
Input no.
2 (HDMI, RF DVB-T MIX)
Input
Video
MPEG-4 AVC / H.264
Video profile
High Profile 4.0
Video Resolution
1920x1080@30fps HDMI
Video Bitrate
Mbps
1-19 (adjustable)
Audio type
HDMI
Standard Audio
MPEG-1 Layer II, MPEG-2, AAC, AC3
Bitrate audio
Kbps
64, 96, 128, 192, 256, 320, 384
Audio Level
Vpp
0.5 - 1 (adjustable)
Output
Transponder no.
1
Standard output
DVB-T (EN300744)
Channel
E5-E12, E21-E69
Frequency
MHz
174-230, 470-862
Tuning step
KHz
1000
Bandwidth
MHz
5, 6, 7, 8
Carriers
2K, 8K
Modulation
QPSK, 16QAM, 64QAM
Guard interval modulation
1/4, 1/8, 1/16, 1/32
FEC
1/2, 2/3, 3/4, 5/6, 7/8
Max output level
dBµV
90
Gain adjustment
dB
20
MER RF
dB
35@UHF
Mixed band
MHz
47-862
Insertion loss
dB
1 Tipico
LCN
Yes (Nordig, ITC/UK, EICTA/Europe, New Zealand)
Features
Power supply voltage
V
12
Absorption
mA
400
Configurable parameters
Service name, service ID, video PID, audio PID, PMT PID, TSID, ONID, network ID, provider name
Load/save configuration
Keyboard and display; PC SW over USB
Working temperature
°C
From 0 to +50
Dimensions and packaging
Pcs
1
EAN code
8016978103751
Packaging dimensions
mm
290x140x50
Product dimensions
mm
160x89x28
Packaging weight
Kg
0.46
Net Weight
Kg
0.33
Weight
Kg
0.44