GX-BOX-DP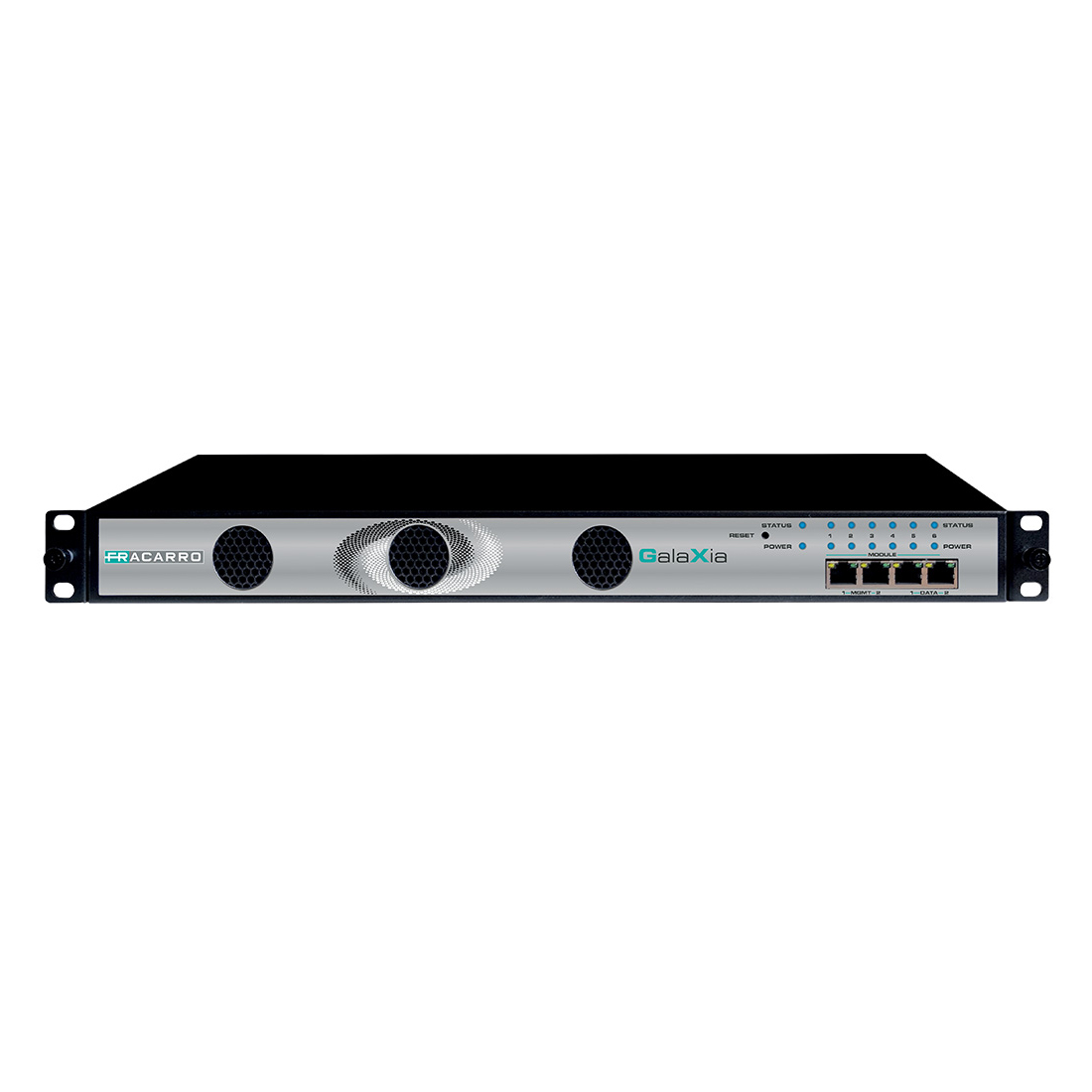 Code 287635
Chassis Galaxia
GALAXIA is the new Fracarro Modular and High Density IP based professional solution able to satisfy all the requests for the distribution of audio/video content coming from the market.
With powerful embedded Gigabit switch and equipped with 6 slots in which it's possible to mix commercial level encoder modules (i.e. multi-inputs HDMI), multi-mode receiver (i.e. DVB-C, DVB-S2X/S2 or DVB-T2/T) and multi-modulator modules (DVB-T or DVB-C), GALAXIA digital platform it's a suitable and complete solution to meet all the major video delivery requirements of signal receiving, descrambling, encoding, multiplexing, modulation and IP unicast and multicast SPTS/MPTS traffic processing.
GALAXIA Solution is the perfect and suitable choice for: hospitality (hotels, villages, camping, resorts) educational (schools, campuses), health (hospitals, nursing homes), prisons, ships, institutional buildings and in general all multi-user structures.
GALAXIA Headend is the perfect solution for manage the IPTV contents and distribute them on FRACARRO GPON network
Technical chars
Mechanics 1RU Standard Rack 19"
Dual power supply as standard for high redundancy
Forced ventilation
6 "hot-swappable" slots available on rear panel
4 RJ45 GE ports on the frontpanel (2 ports for management, 2 ports for the stream IPin/IPout streaming)
Supports up to 120 IPTV inputs and 120 IPTV outputs streams (SPTS / MPTS)
Different modules available for manage different input sources (i.e. DVB-S2 / S2X, DVB-T2, DVB-C, HDMI, descrambling, and so on).
WEB interface based headend: friendly user HTML web interface to set every single parameter
Advanced parameters configuration: all the descriptor parameters of each mux (ONID, TSID, NetID,…) and each program inside the RF mux (LCN, SID, PID, Program name..).
SNMP & HTTP protocols supported
GX-BOX-DP
Code
287635
General features
Slot
6 slots for hot-swappable modules
Power supply voltage
Vac/Hz
100-240 / 50-60
Mains plug
Doppia alimentazione ridondante
Current consumption
W
120
Ethernet interface
4 RJ45 ports GbE (on board)
Working temperature
°C
From 0 to +50 (without CAM)
Storage temperature
°C
From -10 to +70
MTBF
h
≥100000