AFI313T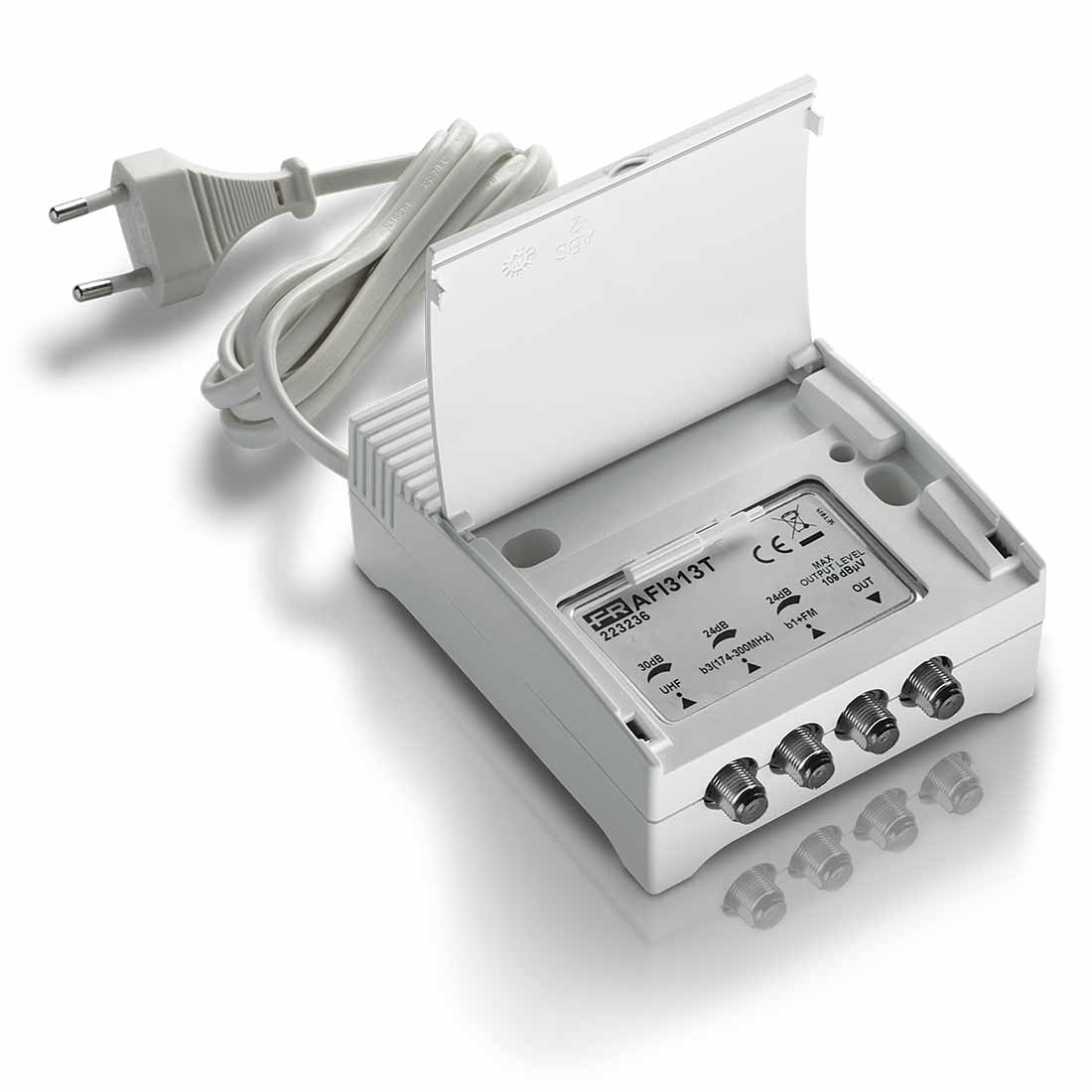 Code 223236
AFI Series
3-input (FM, III+DAB, UHF) indoor amplifier with 30dB gain and up to 110dBμV output level on UHF band, independent level adjustment (15dB) for each input and low noise figure.
Technical chars
Compact and elegant design with F connector.
Built-in switching power supply with high efficiency and low consumption.
Screwdriver included for gain and tilt adjustment.
Adjustments housed under the flap, which can be opened or completely detached.
Internal wall-mounting slots, not visible from outside, for visible installations.
Fully shielded.
Quick and easy installation.
Green power-on signal LED.
AFI313T
Code
223236
Input no.
3 (with separate settings)
Inputs
FM, III+DAB, UHF
Frequency FM
MHz
47 - 108
DAB, III Frequency
MHz
174 - 300
Frequency
MHz
470 - 862
Gain
dB
FM: 25; VHF: 25; UHF: 30
Gain adjustment
dB
FM: 15; VHF: 15; UHF: 15
Optical noise figure
dB
FM+V+U: 4.5
Outputs number
1
Output level
dBµV
110
Connectors
F
Features
Power supply voltage
Vac/Hz
220-230 / 50-60
Current consumption
W
1.8
Isolation class
II
Impedence
Ohm
75
Working temperature
°C
From -10 to +55
Protection
IP20
Conformity
EN50083-2, EN60068
Dimensions and packaging
Pcs
1
EAN code
8016978078844
Packaging dimensions
mm
120x190x50
Product dimensions
mm
120x97x43
Packaging weight
Kg
0.35
Net Weight
Kg
0.35
Weight
Kg
0.36