OPT RX DSCR UK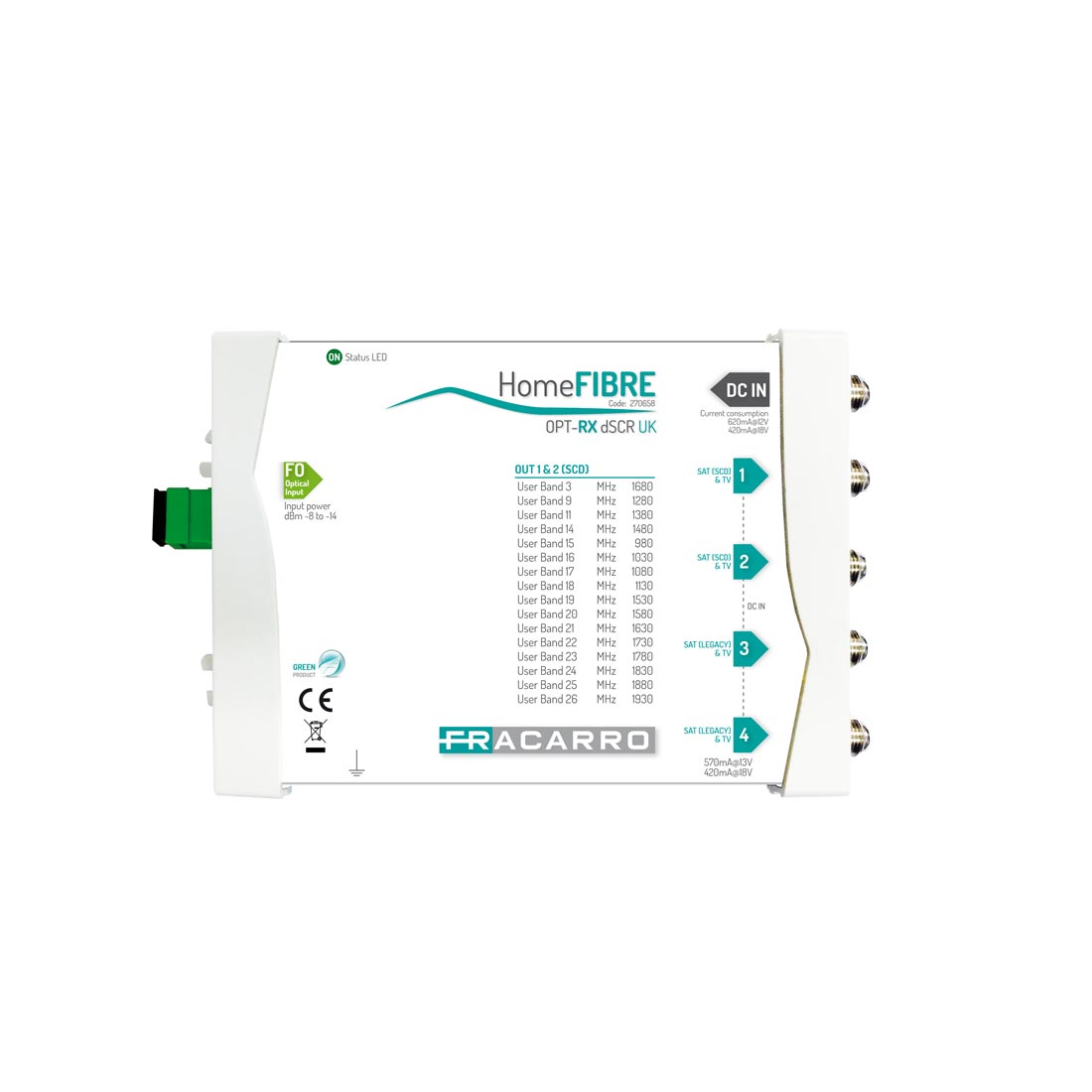 Code 270658
Receivers
Optical receiver series of the complete 'Home Fibre' family for the DCSS solution. The series is used to convert the incoming optical fibre signal into an RF output signal using 16 dSCR (UK) frequencies on 2 separate outputs.
Technical chars
Low current consumption
Standard SC/APC optical connector
Quick and easy installation due to very small dimensions
Optical budget: up to 21dB
Optical range extended reception (from -8dBmo to -14dBmo)
Full band: 87-862 for TV / 950-2150 for SAT polarities
Multi-function LEDs: power status and signalling.
OPT RX DSCR UK
Code
270658
Optical input
Optical input connector
1 SC/APC
Wavelength input
nm
1260-1650
Optical input power
dBm
≤ -8
RF output
Connectors type
F Female
Return loss
dB
-10
Outputs
2 up to 32 dSCR UK users (dCSS) + 2 Legacy
Output level TV
8dBmo 8 transponder
dBµV
81
8dBmo 16 transponder
dBµV
78
8dBmo 40 transponder
dBµV
74
14dBmo 8 transponder
dBµV
69
14dBmo 16 transponder
dBµV
66
14dBmo 40 transponder
dBµV
62
SCR Frequencies
MHz
980, 1030, 1080, 1130, 1280, 1380, 1480, 1530, 1580, 1630, 1680, 1730, 1780, 1830, 1880, 1930 (SKY UK commands)
Output level SAT
8dBmo
dBµV
82
14dBmo
dBµV
82
Features
Power supply voltage
V
14/18 from all exits
Current consumption
mA
430@18V 620@12V
Current consumption
W
9
LED

Green LED on: normal operation (properly powered)
LED flashing: start up or reboot

Working temperature
°C
From -5 to +50
Conformity
IEC EN 50083-2
Dimensions and packaging
Pcs
1
EAN code
8016978102600
Packaging dimensions
mm
213x125x37
Product dimensions
mm
160x100x36
Packaging weight
Kg
0.395