OPT RX 4 MICRO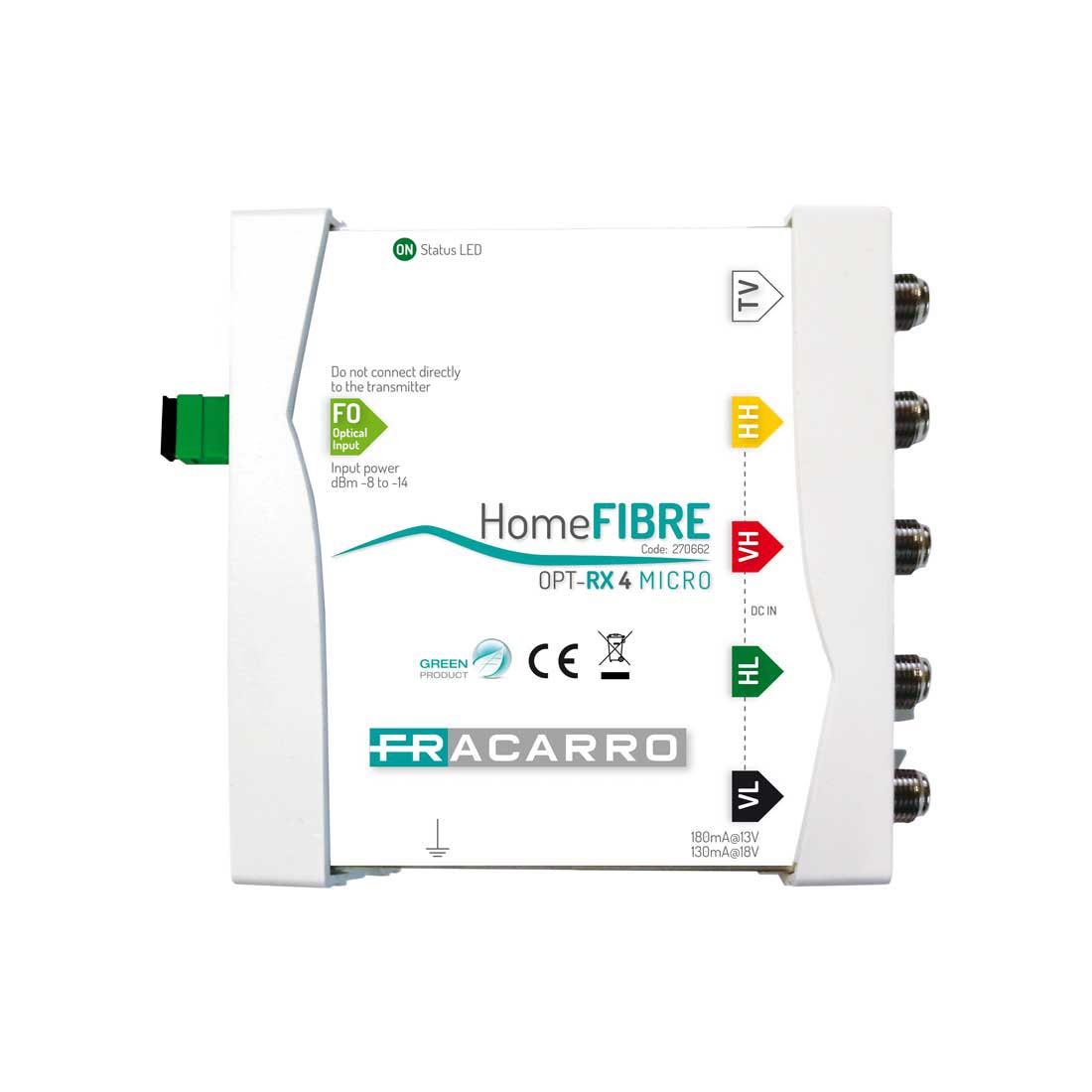 Code 270662
Receivers
The OPT OPT-RX 4 MICRO receiver converts the input optical signal to coaxial signal available on the 4 satellite polarities (VL, HL, VH, HH) and an independent TV output available on the dedicated coaxial connector. The receiver can be powered directly from the output polarities. The product has a multifunctional green LED that provides the installer with various information:
Always ON: The product is fully functional.
BLINKING FAST: HW problem
SLOW BLINKING: optical level received out of the correct working range.
Technical chars
Low current consumption
Standard SC/APC optical connector
Quick and easy installation due to very small size
Optical budget: up to 21dB
Extended optical receiving range (-8dBmo to -14dBmo)
Full band: 87-862 for TV / 950-2150 for SAT polarities
Multifunction LEDs: power status and signaling.
OPT RX 4 MICRO
Code
270662
Optical input
Optical input connector
1 SC/APC
Wavelength input
nm
1260-1650
Optical input power
dBm
≤ -8
RF output
Connectors type
F Female
Return loss
dB
-10
Outputs
4 SAT (VL,HL,VH,HH)+ 1 TV
Output level TV
8dBmo 8 transponder
dBµV
85
8dBmo 16 transponder
dBµV
82
8dBmo 40 transponder
dBµV
78
14dBmo 8 transponder
dBµV
67
14dBmo 16 transponder
dBµV
64
14dBmo 40 transponder
dBµV
66
Output level SAT
8dBmo
dBµV
80
14dBmo
dBµV
68@TP
Features
Power supply voltage
V
14/18 from all exits
Current consumption
mA
180@13V
Current consumption
W
2.5
LED

Green LED on: normal operation (properly powered)
LED flashing quickly: hardware anomaly
LED flashing slowly: optical power out of the operating range

Working temperature
°C
From -5 to +50
Conformity
CEI EN 50083-2 EN60065
Dimensions and packaging
Pcs
1
EAN code
8016978101344
Packaging dimensions
mm
130x110x37
Product dimensions
mm
120x100x36
Packaging weight
Kg
0.312