PA3M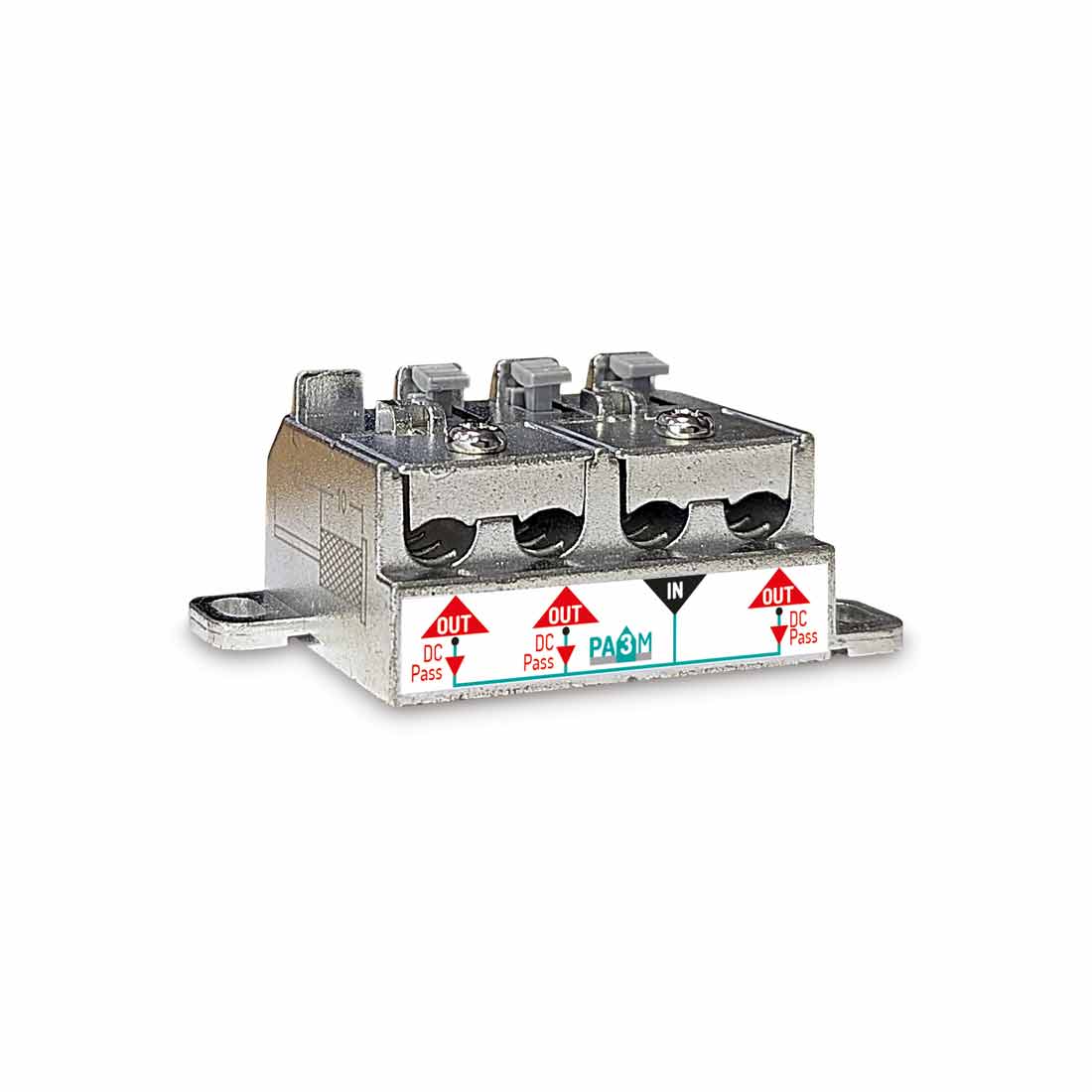 Code 287457
PAM - DEM Series
3-output clamp splitter of the PAM series in the TV and Satellite band (5-2400MHz).
Technical chars
Thanks to the unique retaining clip, the central connector remains integral with the rest of the mechanics, facilitating cable attachment.
The very small dimensions and the clamp solution, without an F connector, considerably reduce the installation footprint.
The excellent shielding guarantees the protection of the signal from 5G and 4G LTE disturbances in the air.
The new mechanics with protective fins (Rev. 1) prevent the spring of the central connector from being accidentally pressed while closing the junction boxes.
DC pass from output to input ports on all the products.
PA3M
Code
287457
Outputs
3
Insertion loss
RC 5-40MHz
dB
6.6
TV 47-862MHz
dB
7.2
SAT 950-1750MHz
dB
8.1
SAT 1750-2150MHz
dB
8.5
SAT 2150-2400MHz
dB
10.5
Outputs Isolation
RC 5-40MHz
dB
21
TV 47-862MHz
dB
21
SAT 950-1750MHz
dB
21
SAT 1750-2150MHz
dB
21
SAT 2150-2400MHz
dB
20
Dimensions and packaging
Pcs
10
EAN code
8016978101191
Multiple EAN
8016978101498
Packaging dimensions
mm
130x75x90
Product dimensions
mm
62x33x23
Packaging weight
Kg
0.66