XDG 8S2-8T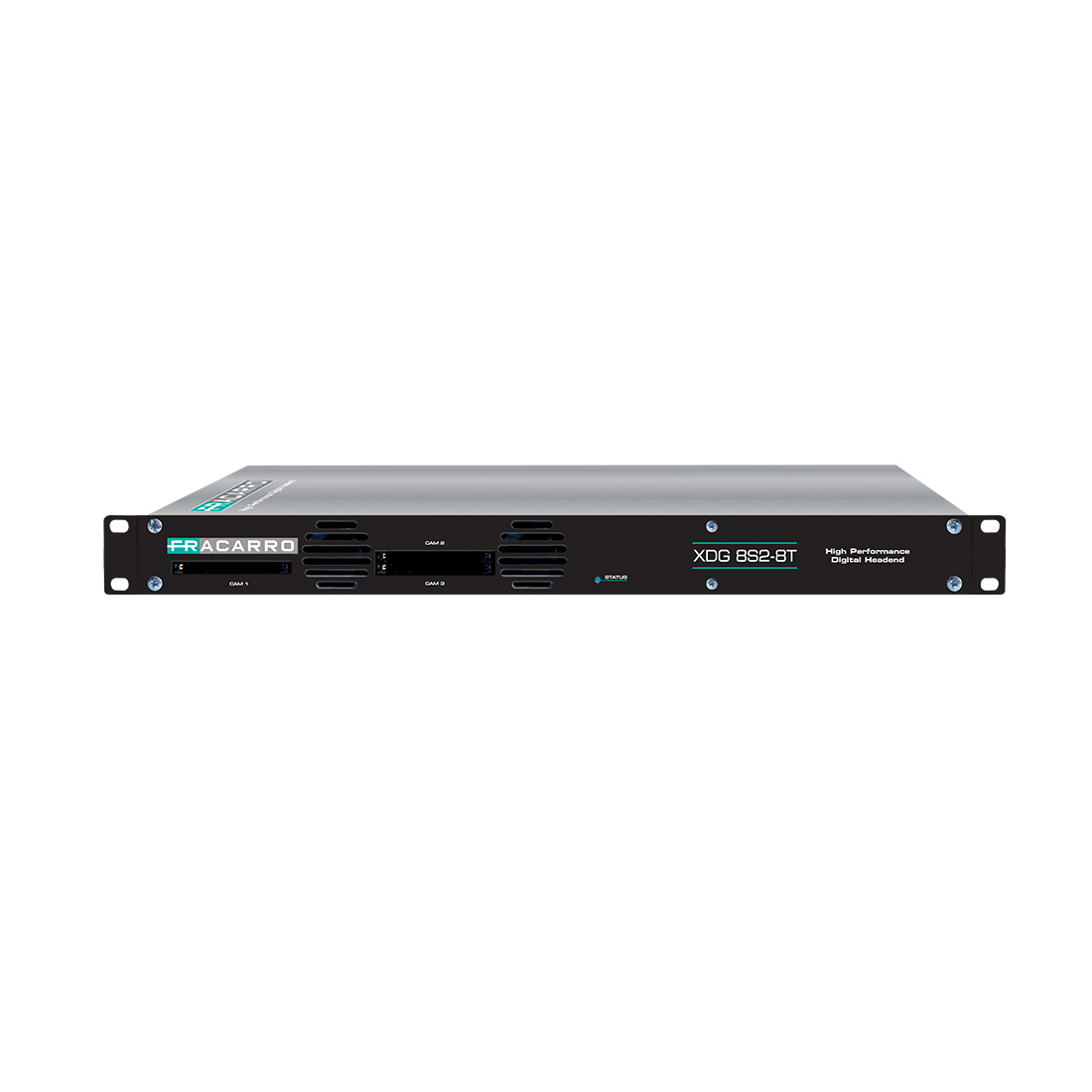 Code 287649
Satellite S2
XDG 8S2-8T is the FRACARRO High Performance
digital Headend suitablef for manage the TV programs on
multi-user hospitality enviroments.

XDG 8S2-8T is able to receive both Satellite Free-To-Air
programs, and thanks to the three C.I. Slots embedded, the
satellite coded programs from 8 Satellite independent
transponders (DVB-S/S2/S2X).

The headend is able to transmodulate the satellite programs
received and remux them on 8x DVB-T or 8x DVB-C digital
terrestrial multiplexes.

XDG 8S2-8T is the perfect and suitable choice for:
hospitality (hotels, villages, camping, resorts) educational
(schools, campuses), health (hospitals, nursing homes),
prisons, ships, institutional buildings and in general all
multi-user structures
Technical chars
Compact "all in one" headend

Dual installation mode: in 19"rack (1RU standard) or wall installation

Up to 8 DVB-S/S2/S2X independent inputs

8xDVB-T or 8xDVB-C output multiplexes (selectable

output modulation during the settings)

3 independent Common Interface slots to insert

ProCAMs and professional smart-cards (not included)

Forced ventilation

Web interface embedded for the management of all the

parameters

Management of the advanced parameters of each

individual program (PID filtering, SID, NIT, LCN, ONID, etc.)

SNMP protocol supported
XDG 8S2-8T
Code
287649
Input
Input no.
8
Input level
dBµV
43÷84
Demodulators
DVB-S (EN300421) DVB-S2 (EN 302307-1 v1.4.1) DVB-S2X (EN 302 307-2 v1.1.1)
Symbol rate
Mbps
1.5-45 (< 40 MSymb/s in 32-APSK) @ DVB-S
Remote feeding
mA
250mA per input - 1000mA (total per device)
LNB controls
DiSEqC 1.0
Outputs
Multiplexes created
8
Output
S2-E69
Max output level
dBµV
95 @ DVB-C/DVB-T
Level adjustment
dB
From 0 to 20
MER RF
dB
≥40 dB @ DVB-C, ≥36 dB @ DVB-T
DVB-T Modulation
Output
16-QAM, 64-QAM
Carriers
8k mode (DVB-T)
Guard interval modulation
1/4, 1/8, 1/16, 1/32 @ DVB-T
DVB-C Modulation
Output
32QAM, 64QAM, 128QAM, 256QAM
Single channel band
Related to output symbol rate
Symbol rate
Mbps
From 1 to 7,5 MSymb/s (DVB-C)
Features
Connectors
9x F-Female (8x RF input, 1x RF output), 1x RJ45 (100 Base-T for configuration)
Programming mode
Web interface
Current consumption
W
50
Common interface
3 x PCMCIA (Standard EN50221, TS10169)
Working temperature
°C
From -10 to +50 (without the CAM)
Dimensions and packaging
Pcs
1
EAN code
8016978106837
Packaging dimensions
mm
575x325x50
Product dimensions
mm
485x275x45
Packaging weight
Kg
4