Wideband Technology
Thanks to the wideband technology, the LNBs can be connected to the Fracarro SCD2 multiswitches with only 2 coaxial cables for each satellite, allowing quick and easy installation even in the smallest spaces.
With WIDEBAND technology, the LNB provides the entire horizontal and vertical polarity on the two outputs, occupying the band from 290 to 2340MHz and leaving to the multiswitch the task to divide each of them into the two low and high portions.
As in QUATTRO technology, the multiswitch then sends to the receiver only the required band (VL, HL, VH or HH) or the single transponder depending on the DiSEqC command received.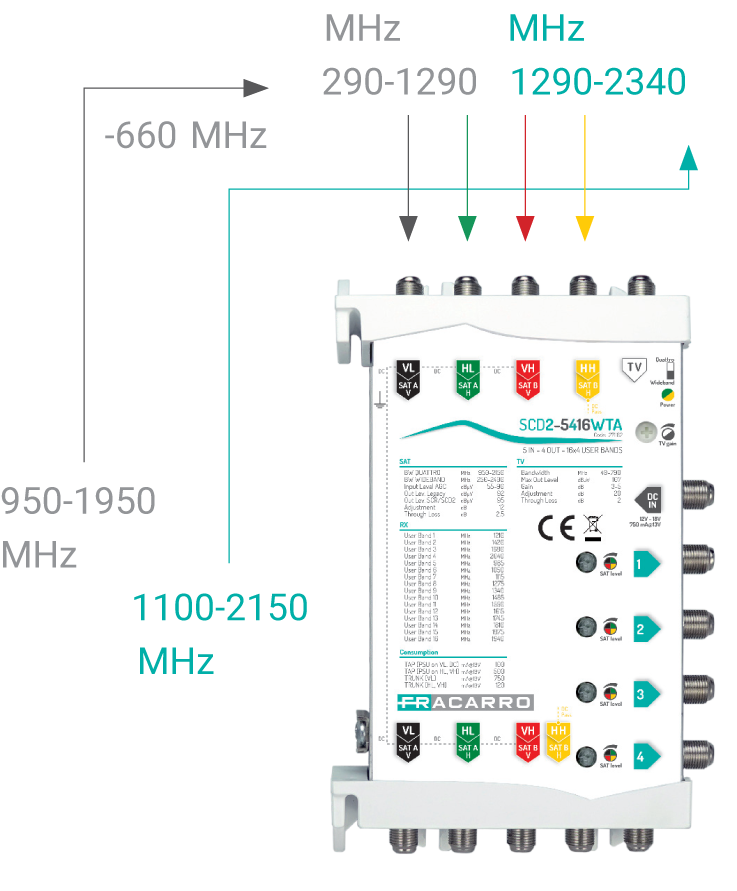 Wideband and QUATTRO: comparing technologies
Cables number
With WIDEBAND technology, the number of coaxial cables connecting the LNB to the multiswitch is half (2 instead of 4): installation is therefore faster and easier, even in the case of limited space. Using existing cables, the WIDEBAND technology also makes it possible to convert a traditional QUATTRO single satellite system to a WIDEBAND double satellite system: in fact, both Hotbird 13°E and Astra 19.2°E can be received and distributed with only 4 cables coming down from the roof.
Products selection
The bands occupied by the LNB output signals that go towards the multiswitches are different in the two technologies and may also vary on different LNB WIDEBAND models; for this reason, if you use a WIDEBAND type LNB with a local oscillator at 10,410 MHz (the most common on the market), the multiswitch connected to it must also be WIDEBAND compatible and calibrated on the same frequency as the oscillator.
Decoder and distribution
They are the same in the two technologies because the satellite signal at the output of the QUATTRO or WIDEBAND multiswitch, which serves the user socket, always occupies the band from 950 to 2150MHz; cables, splitters and receivers (be they legacy, SCR or SCD2 dCSS) are in any case compatible with both technologies. In WIDEBAND systems, when there is a signal division along the down conductor (between LNB and multiswitch) it is necessary to use products with band up to 2340MHz.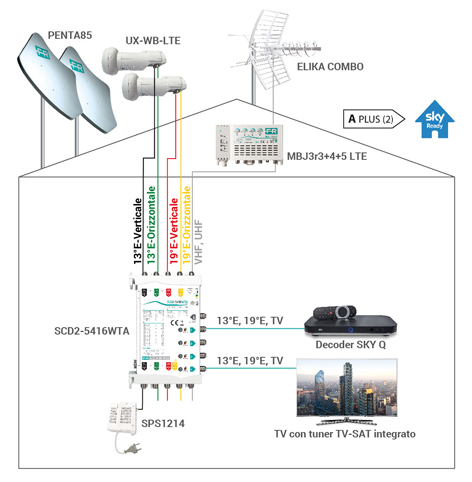 LNB
| | |
| --- | --- |
| QUATTRO | WIDEBAND |
| It receives the entire horizontal and vertical polarities from the dish. | It receives the entire horizontal and vertical polarities from the dish. |
| It divides each of them into low from 10.7 to 11.7GHz and high from 11.7 to 12.75GHz. |   |
| It converts them on 4 coaxial cables in the frequencies from 950MHz to 2150MHz. | It converts them on 2 coaxial cables in the frequencies from 290 to 2340MHz |
MULTISWITCH
| | |
| --- | --- |
| QUATTRO | WIDEBAND |
| It receives the VL, HL, VH and HH bands from the LNB | It receives the entire vertical and horizontal polarities from the LNB |
|   | It divides each of them into low from 950 to 1950MHz and high from 1100 to 2150MHz |
| It sends to the decoder only the required band or the single transponder based on the DiSEqC tone received | It sends to the decoder only the required band or the single transponder based on the DiSEqC tone received |